Meet the Visionaries
Team
By Burnac has assembled a best-in-class team of creative professionals, in order to bring its vision for The Bedford to fruition, crafting a new, architecturally significant building that will become one of the most distinguished and applauded in the City of Toronto.
Driven by Distinction
By Burnac is a wholly-owned, family business with its headquarters in Toronto, Canada. From our inception in the 1990s, through to becoming an industry leader in commercial and residential real estate today, our aim has always been the same: To create unique and distinctive buildings that incorporate striking design, technologically advanced construction, exceptional amenities and above all, superior value.
"We design residences that we would be proud to live in ourselves," says Ted Burnett, President of By Burnac. "At By Burnac, we're proud of the fact that our buildings resonate with the best-in-class design and deliver a truly superior lifestyle for our discerning residents. There are no shortcuts when it comes to achieving top-notch quality and value."
We continue to push beyond average and always strive to create extraordinary lifestyle opportunities. As such, we strongly believe in building relationships with entities and individuals who share this drive for success as we work together to create remarkable, resident-focused projects.
The Architecture
Audax
Toronto's premier architecture firm is bringing its award-winning philosophy to The Bedford. Audax combines the quiet luxury of traditional craftsmanship with contemporary aesthetics to reveal the permanent quality that defines timelessness.
Demonstrating true artistic sophistication, Audax has designed The Bedford with inspiration from well-loved Parisian architecture, utilizing classic building materials and architectural detail. The interior of each private residence offers spacious floorplans, enhanced by soaring ceilings. In sync with the neighbourhood's historic character, the building achieves perfect visual harmony with its surroundings.
The Interior Design
Paolo Ferrari
Studio Paolo Ferrari, a Toronto-based multidisciplinary design house led by the internationally recognized designer, Paolo Ferrari, has created interiors that express true comfort and authentic craft. The approach is restrained yet guided by gracious hospitality and service. Thoughtful design and effortless elegance establish a vision of refinement and luxury.
The Bedford's interiors are meticulously crafted to attain the distinction of timeless design, while recognizing the attraction of artistic flair and technological innovation on the lives of its residents.
The Landscape
Ronald Holbrook
For esteemed landscape architect Ron Holbrook, The Bedford's corner locale presented a remarkable opportunity to create a special streetscape, incorporating lush greenery, decorative planters and a grand porte-cochère to welcome residents and guests. Private gardens framing The Bedford's townhomes are inspired by the intimate gardens of London's esteemed Chelsea and Holland Park districts.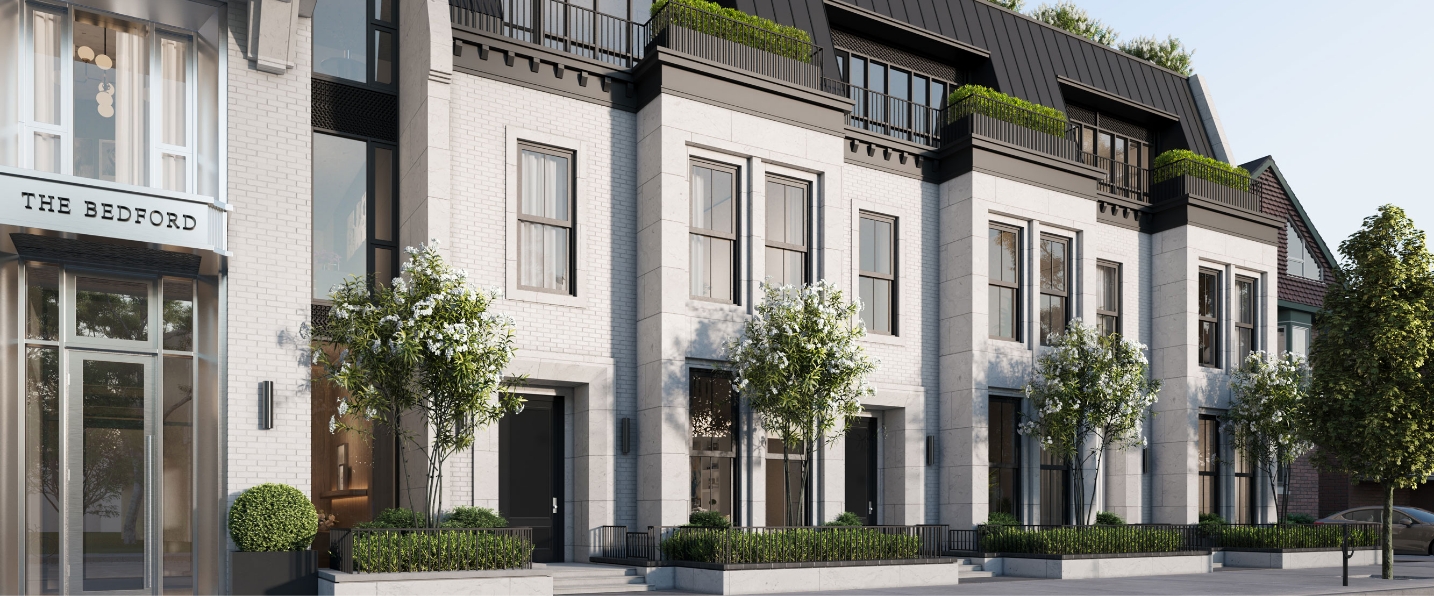 An alchemy of textures and topiary extends The Bedford's private luxury into the public domain. The exquisite landscaping creates its very own enclave, framing The Bedford as art for all to see.