Privacy.
Thank you for visiting us online at www.capitalparkliving.com We want you to feel comfortable while visiting our website and therefore we respect and are committed to protect your privacy. It is our belief that you should understand the way we will use the information that you provide. This policy also explains how you can ask questions and review and update your personal information. We invite you to take a few minutes to read our privacy policy:
Your Consent
By using this Web site, you consent to the terms of our Online Privacy Policy and to Bedford's processing of Personal Information for the purposes given above as well as those explained where Bedford collects Personal Information on the Web. If you have objections to the Privacy Policy, you should not access or use this site.
Collection of your anonymous information
In general, you can visit Bedford's Web pages without telling us who you are or revealing any Personal Information about yourself. For our internal purposes, we gather date, time, browser type, the name your Internet service provider, the site that referred you to us, any pages you requested, navigation history and IP address of all visitors to our site. This information does not contain anything that can identify users personally. We use this information for our internal security audit log, trend analysis and system administration, and to gather broad demographic information about our user base for aggregate use. We use this information to generate statistics and measure site activity to benefit www.capitalparkliving.com users. This same information may be shared with third parties in order to provide these services or to analyze, store, or aggregate the information. It may also be shared with other third parties, working with us to improve the services of Bedford or this website.
Collection of your personal information
Bedford asks for your first and last name, address, email address, telephone numbers and other personal information when you create an account online. You will also be asked for personal information when you make an online purchase, or enter into contests or promotions sponsored by our partners. This information is used to process your orders and to allow us to communicate with you. The information also enables Bedford to customize products or services to better meet your preferences and to offer you products and services from Bedford and other sources that may be of interest to you.
Use of your personal information
We use your personal information to deliver services, such as fax bulletins and new product announcements, to alert you to special offers and to allow you to access certain limited-entry areas of our site.
Sharing of your personal information
Companies may be engaged by Bedford to perform a variety of functions, such as, fulfilling orders, assisting with promotions, providing technical services for our web sites, etc. These companies may have access to personal information if needed to perform such functions. However, these companies may only use such personal information for the purpose of performing that function and may not use it for any other purpose.
Bedford does not sell, transfer, or disclose personal information to third parties. However, with your permission, we will, on occasion send marketing information on behalf of one of our business partners about products or services they provide that may be of interest to you. You may be asked if you wish to receive marketing materials from Bedford's business partners. If you elect to receive such materials, Bedford will not share your personal information with such partners but rather will send a mailing or email on behalf of the partners.
Compliance with Legal Process
We may disclose personal information if we are required to do so by law or we in good faith believe that such action is necessary to (1) comply with the law or with legal process; (2) protect and defend our rights and property; (3) protect against misuse or unauthorized use of this Web site; or (4) protect the personal safety or property of our users or the public (among other things, this means that if you provide false information or attempt to pose as someone else, information about you may be disclosed as part of any investigation into your actions).
Access to your personal information
If at any time you would like to review, update or to correct any personal information we have about you or to ask us to delete that information or to stop further use of that information, please let us know by contacting us at the e-mail or postal address listed below.
Security of your personal information
We maintain physical, electronic, and procedural safeguards to protect your personal information from unauthorized access, use or disclosure. We are committed to protecting the security of your personal information.
Our employees' responsibility
Our employees are responsible for maintaining the confidentiality of all personal information to which they have access. As a condition of employment, our employees are required to sign a confidentiality agreement binding them to this responsibility. Furthermore, we keep our employees informed about our policies for protecting personal information and reinforce the importance of complying with them.
Use of cookies
A cookie is a small line of data that is sent to your Internet browser from a web server and stored on you computer's hard drive. Cookies can track how and when you use a site, and which site you visited immediately before. A cookie does not damage your system. A cookie identifies your browser and not you. We use cookies to identify which areas of our network you have visited, so the next time you visit those pages may be readily accessible. If you do not wish to receive a cookie, use the options in your web browser. To that effect, click on the help section of your browser to learn how to change your cookie references. This provides you with anonymity, but it also makes it very difficult to offer your customized services.
Your own role
You also have a role in protecting the security of your information; for example, you should guard your password and not permit unauthorized use of your account.

Terms.
The following are the terms of use (the "Terms") that govern the use of this website (the "Website"). By using the Website, you agree to be bound by the Terms as revised or updated from time to time, including without limitation, the Privacy Policy posted on the Website as revised or updated from time to time, and any other usage guidelines and rules that may be posted from time to time, all of which are incorporated herein by reference, as well as all applicable laws and regulations governing the Website. If you do not agree, please do not enter, or use the Website.
1. Intellectual Property and Permitted Use
Bedford is the owner or authorized user of all intellectual property rights on the Website and all content displayed on the Website. All information at the Website is protected under the copyright laws and other intellectual property laws of Canada and other countries. You may display on your computer, download, and print pages of the Website, provided: (i) the words "copyright Bedford" appears on all material that is so printed; (ii) the information will not be altered in any manner; and (iii) your use of such pages is only for personal and non-commercial use. Other than in accordance with the foregoing, no one has permission to copy, redistribute, reproduce, or republish in any form, any content displayed at the Website.
All trademarks, logos, and service marks (the "Trademarks") displayed on the Website are registered and unregistered trademarks of Bedford and others and may not be used by you in any way without the express written permission of Bedford or the owner of such Trademark.
2. User Contributions to Website
You are prohibited from posting or transmitting to or from the Website any unlawful, threatening, libelous, defamatory, obscene, pornographic, hateful, malicious, or other material that would violate any applicable law, or otherwise be in violation of the intellectual property rights of others.
Bedford welcomes ideas and/or suggestions for improvements or additions to the Website, all of which will be subject to the Terms. Any and all ideas, suggestions and/or submissions forwarded or disclosed by you or on your behalf to Bedford are made with the specific understanding that: (a) same will not be subject to any obligation of confidentiality or expectation of compensation, (b) any and all rights that you may have in such ideas, suggestions and/or submissions are absolutely waived, (c) you represent and warrant to us that such ideas, suggestions and/or submissions are wholly original with you, that no one else has any rights in and to same, and (d) Bedford is free to implement the ideas, suggestions and/or submissions as it may from time to time desire, without obtaining permission or license from any third party.
3. E-mail Messages and Security
Regular, unencrypted e-mail messages over the Internet are not secure. Bedford shall not be responsible for any unauthorized access to personal or confidential information that is contained in any email or other transmission to us. This Website uses cookies and session variables to personalize content and enhance the user's experience. This may result in unauthorized access to personal or confidential information. While every reasonable effort is made to ensure that all software provided at the Website is suitable for use on a wide variety of computer systems, you should take reasonable and appropriate precautions to scan for computer viruses and ensure compatibility of the software with your specific computer system. Bedford recommends that you utilize firewall hardware. Bedford cannot represent or warrant that the Website is a secure repository.
4. Availability of Service
The services provided under the Website may be limited or discontinued at any time by Bedford at its discretion and without notice.
5. External Links
The Website may provide links to third party websites, and some of the content appearing on the Website may be supplied by third parties by way of framing, meta tagging or otherwise linking to other websites. Bedford shall not be responsible for any such content or information, nor shall it be liable for any damages incurred from viewing such linked websites, including without limitation, damages caused by computer viruses, Trojan horses or other intrusive, destructive, or disruptive codes which may be downloaded from such linked websites. Bedford does not endorse any such linked website. If you have any concerns in visiting any website that is linked to the Website, please contact Bedford and Bedford will determine, in its discretion, if the link should be removed from the Website. You may not provide a link to the Website without the express written permission of Bedford.
6. Product Endorsement
Any references on the Website to products, services, or publications, other than those of Bedford, do not imply the endorsement or approval of such products, services, or publications by Bedford.
7. Accuracy of Information
Although reasonable care has been taken to ensure the accuracy of the information on the Website, all Website content is provided on an 'as is' basis, without any warranties of any kind, express or implied. Content on the Website is for informational purposes only, and is not intended to provide specific legal, financial, or other similar advice, and should accordingly not be relied upon in that regard.
8. Limitation of Liability
In no event will Bedford be liable for any damages whatsoever (including, without limitation, damages resulting from lost profits, loss of prospective economic advantage, lost data or business interruption) arising out of the use, inability to use, or the results of use of the Website, any websites linked to the Website, or the content contained on any or all such websites, whether based on warranty, contract, tort or any other legal theory and whether or not advised of the possibility of such damages, nor for any claim by another party/or parties.
9. Severability
If any provision of the Terms shall be unlawful, void, or unenforceable for any reason, then any such provision shall be deemed severable to the extent that it is unlawful, void, or unenforceable, but shall not affect the validity or enforceability of the remaining provisions.
10. Governing Law
The Terms are governed by the laws of the Province of Ontario and the laws of Canada applicable therein without reference to the principles of conflicts of laws thereof. Any dispute arising from these Terms shall be resolved exclusively in the Province of Ontario by the courts of the Province of Ontario.
© 2022 By Burnac Group. All Rights Reserved.

AODA.
This is an accessibility statement from Bedford.
Conformance status
The Web Content Accessibility Guidelines (WCAG) defines requirements for designers and developers to improve accessibility for people with disabilities. It defines three levels of conformance: Level A, Level AA, and Level AAA. Bedford is partially conformant with WCAG 2.1 level AA. Partially conformant means that some parts of the content do not fully conform to the accessibility standard.
© 2022 By Burnac Group. All Rights Reserved.

CHAPTER 1


FORM AND FUNCTION
BECOME ONE
CHAPTER 2
By Burnac
A Reputation That Resonates Across Toronto:
Driven by Distinction, Grounded in Quality.
By Burnac is a wholly-owned, Canadian family business known for a unique ability: to combine outstanding locations with unique architecture and stunning design. We're proud of the fact that our buildings resonate with the best in décor and deliver a truly elevated lifestyle. Since inception in the 1990s, through to our place as an industry leader today, our vision has remained the same: create condominium residences synonymous with lasting quality and value.
We design and construct homes that we ourselves would be proud to live in.
We've been doing so for decades.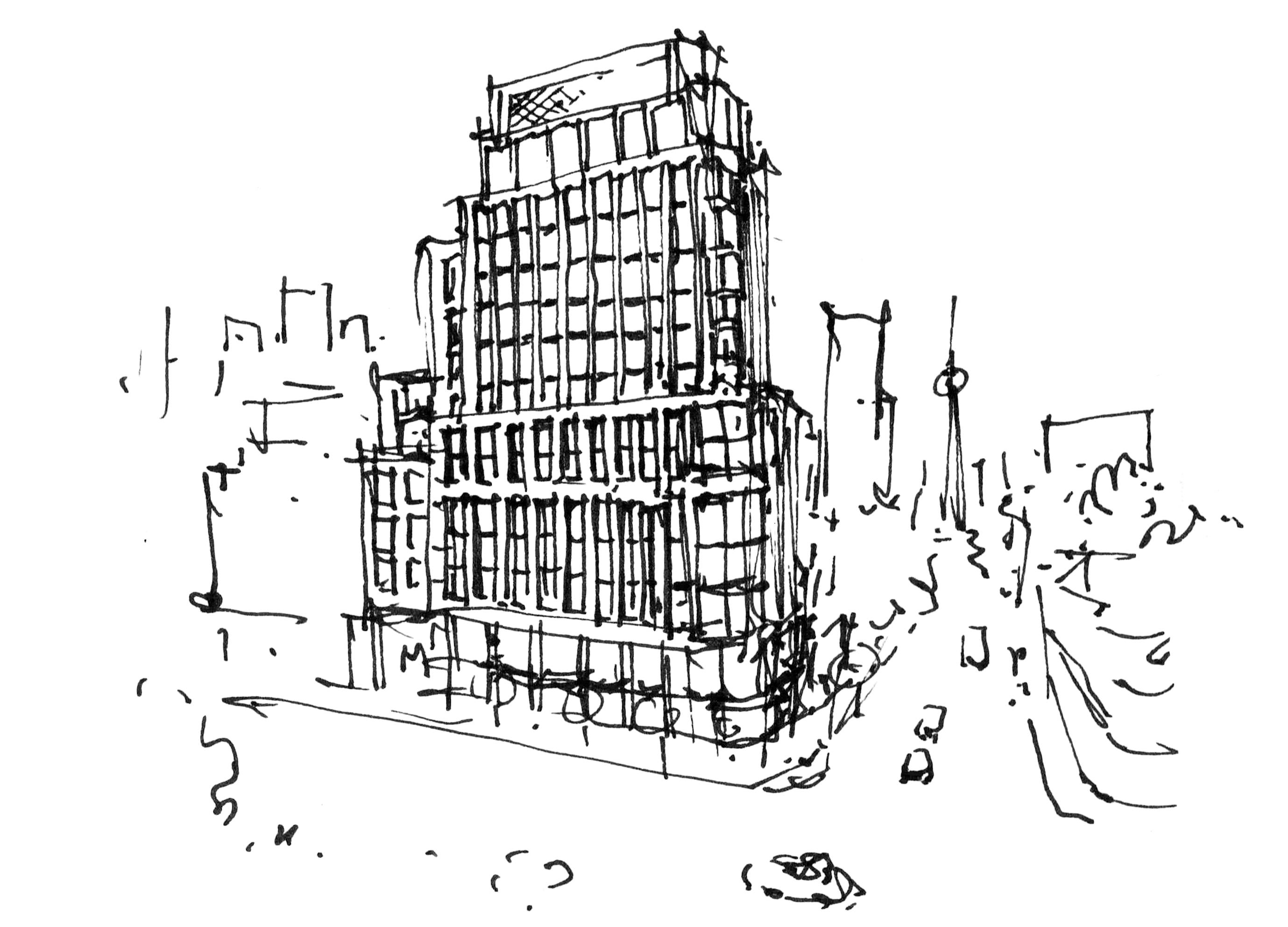 Exceptional Design
By Burnac residences maintain their inherent value. The interiors are thoughtfully crafted to evoke the distinction of enduring design, which, in turn, testifies to the impact that art and innovation have on the lives of our residents.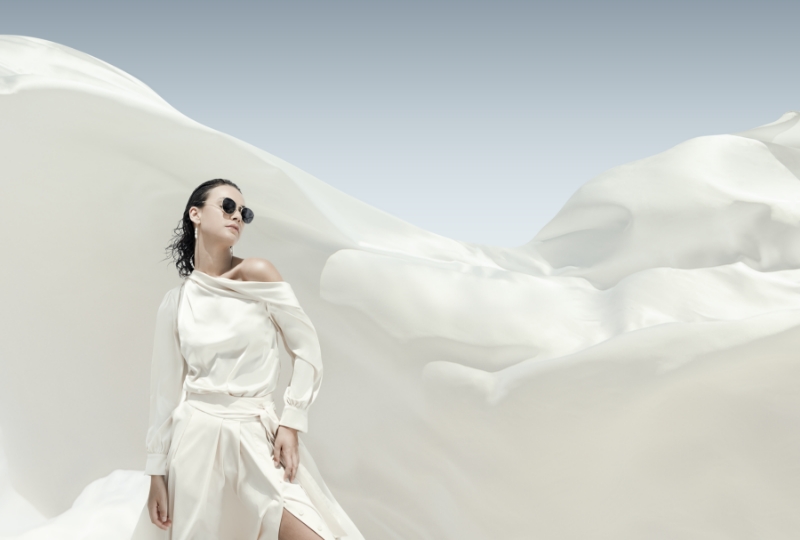 Well Located
We place the utmost importance in selecting the finest urban locations. Our collection of unique condominium developments take their place in some of mid-town and downtown Toronto's most prestigious neighbourhoods.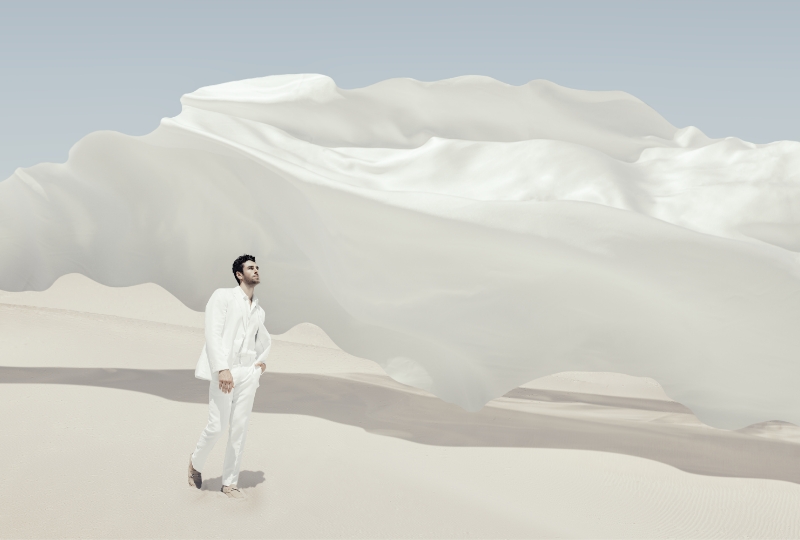 Timeless Architecture
By Burnac infuses historically treasured aesthetics with current excellence in architecture to make a timeless contribution to the city's landscape. Each project blends into its surroundings while maintaining its own individual identity.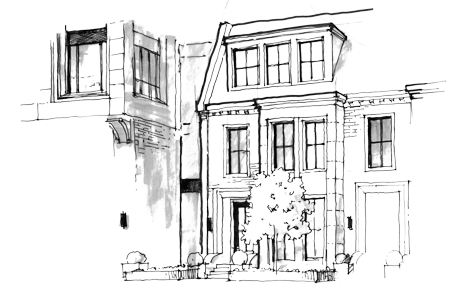 CHAPTER 3
The Architect
Revive the Past, Frame the Future,
Execute Timeless Architecture:
The World of Audax
Toronto's premier architecture firm is bringing its award-winning philosophy to The Bedford. Audax combines the quiet luxury of traditional craftsmanship with the design-forward aesthetic of contemporary thought, revealing the permanent quality that shapes timelessness.
The intention is to create an architecturally significant building with exquisite residences, connected to a historic neighbourhood. A modern interpretation of revered Haussmann architecture achieves this visual harmony. Utilizing classic building materials and architectural detailing, The Bedford integrates with its surroundings by preserving and enriching the neighbourhood's character, fabric and history.
CHAPTER 4
The Interior Designer
Refined Luxury and a Human Experience:
The Imagination of Studio Paolo Ferrari
Studio Paolo Ferrari, a Toronto-based multidisciplinary design house led by the internationally recognized designer Paolo Ferrari, has turned its attention from projects across North America and the Middle East to The Bedford, suffusing its interiors with expressive modernism, contemporary luxury and a deep respect for shared past.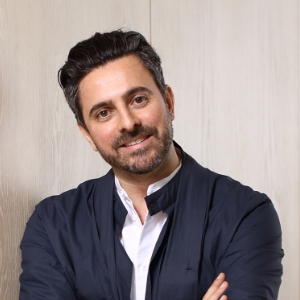 Paolo Ferrari
SPEAKS ABOUT THE BEDFORD EXPERIENCE.
Studio Paolo Ferrari has left its signature on some
of the most eminent buildings around the world.
The approach is restrained yet guided by generous hospitality and service. Thoughtful design balances with effortless elegance. Materiality expresses deep comfort and authentic craft. The interior design seamlessly extends the architectural vision to complete a refined luxury, where storied history takes its place beside youthful excitement.
CHAPTER 5
The Landscape Architect
Life looked at through a frame:
The portraits of Holbrook and Associates
Recognized as one of Canada's most venerated and respected landscape architectural firms. The award-winning Holbrook and Associates is led by Ronald Holbrook who draws on over 30 years of experience in landscape architecture and the fine arts to elevate landscapes to portraits.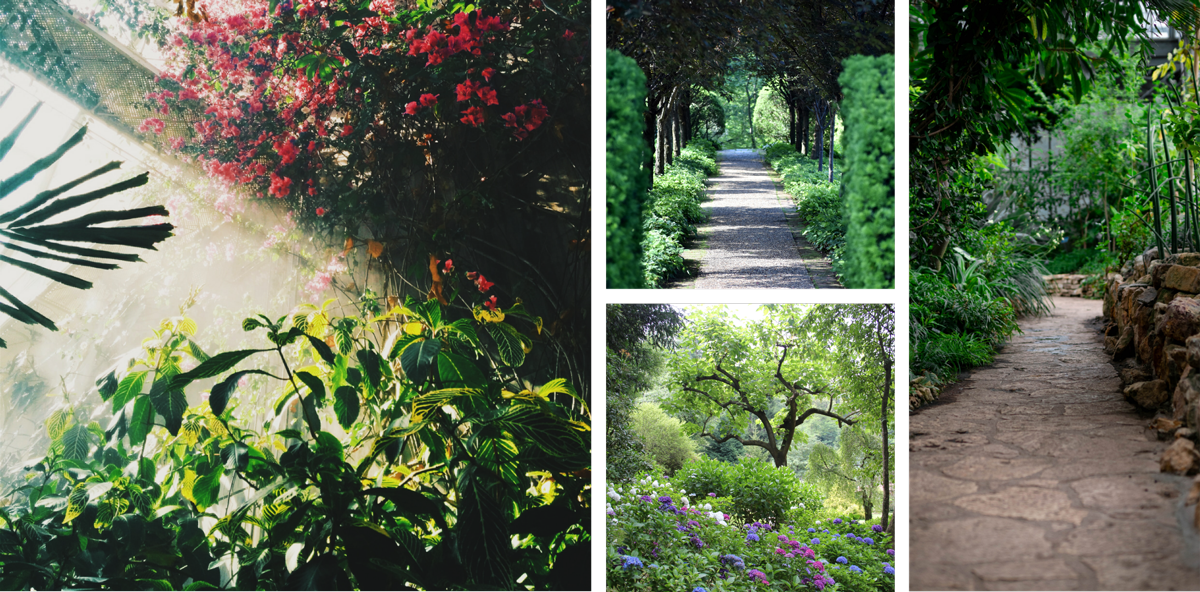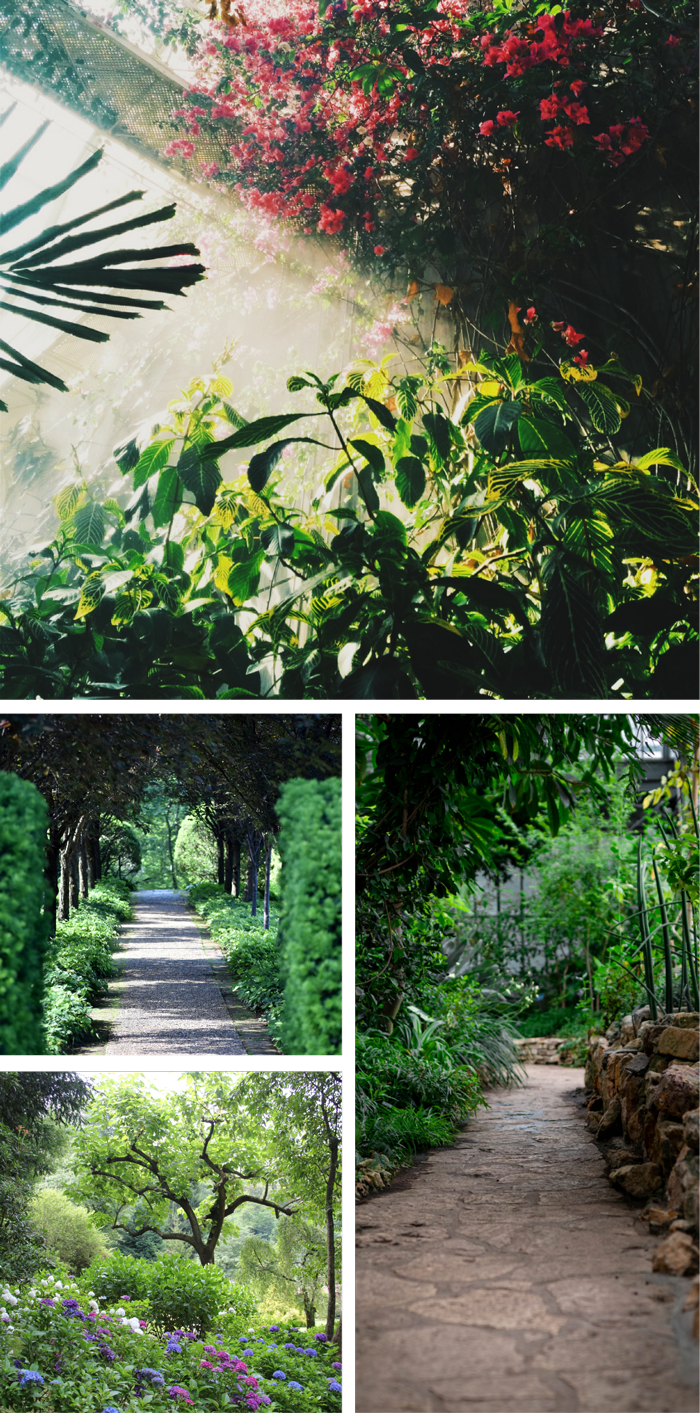 The Bedford's corner locale presented a remarkable opportunity to create a special streetscape, incorporating lush greenery, decorative planters and a grand Porte-cochère to welcome residents and guests. Private gardens for The Bedford's three townhomes are inspired by the intimate gardens of London's esteemed Chelsea and Holland Park districts.
An alchemy of textures and topiary extends The Bedford's private luxury into the public domain. The landscaping creates its very own enclave, framing The Bedford as art for all to see.
CHAPTER 6
The Reveal
Demonstrating true artistic sophistication, Audax has designed The Bedford with inspiration from well-loved Parisian Buildings, utilizing classic building materials and a modern interpretation of Haussmann architecture.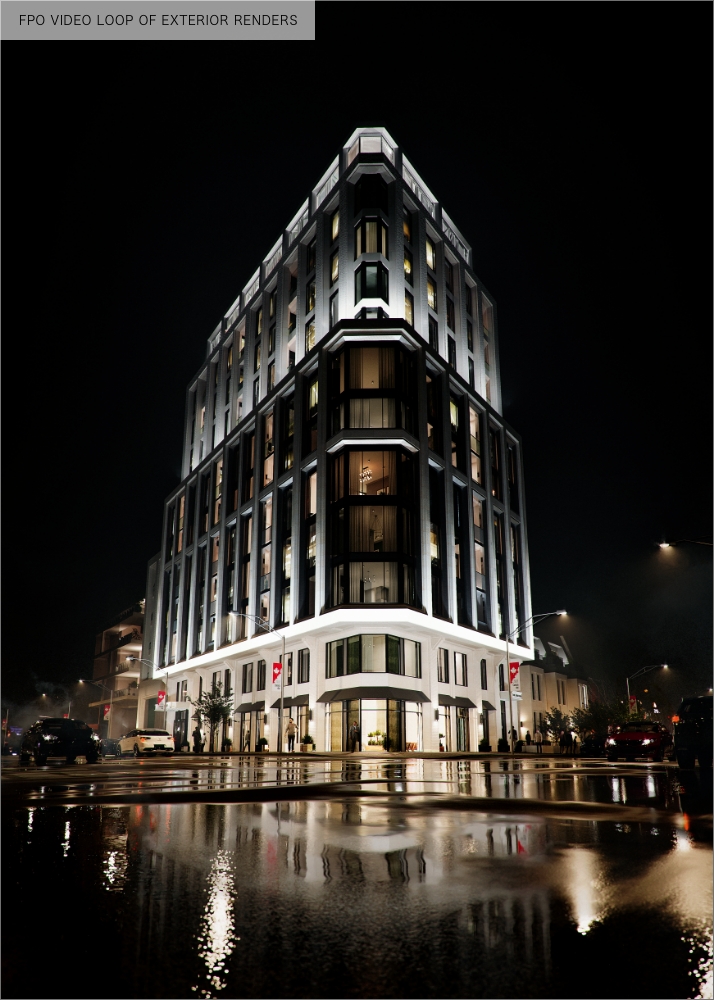 The interior of each private residence offers spacious floorplans, enhanced by soaring ceilings. In sync with the neighbourhood's historic character, the building achieves perfect visual harmony with its surroundings.
CHAPTER 7
The Location
The historic Yorkville-Annex neighborhood was the city's most exemplary communities, and over the years, it has been home to some of Canada's most famous cultural and political luminaries. Today, the neighbourhood remains an outstanding example of endearing character, thanks to the locale's protected heritage destination.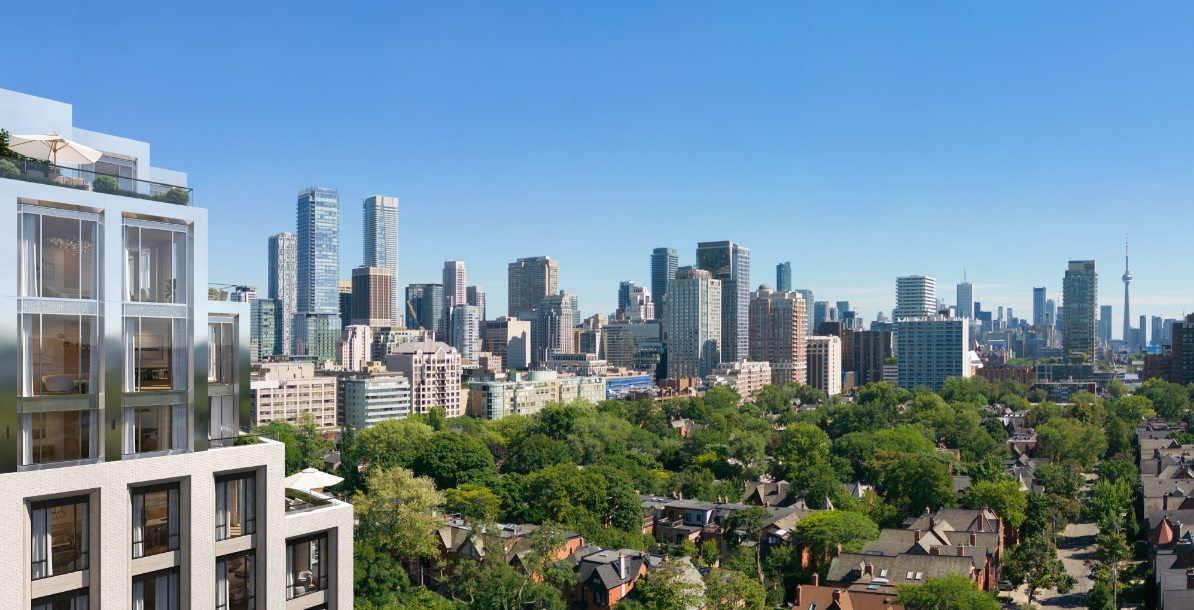 Within this coveted neighbourhood, which encompasses over 500 heritage buildings, The Bedford takes its place at one of the city's most historic intersections. Residents will appreciate easy access to the city's top amenities, such as Yorkville Village, a famed shopping and dining district, as well as close proximity to the city's extensive transportation network.
CHAPTER 8
The Services
ByBurnac, in collaboration with the Forest Hill Group, is pleased to offer a sophisticated and extraordinary array of personal and hospitality services, provided by top-calibre, 24-hour concierge, porter and valet staff.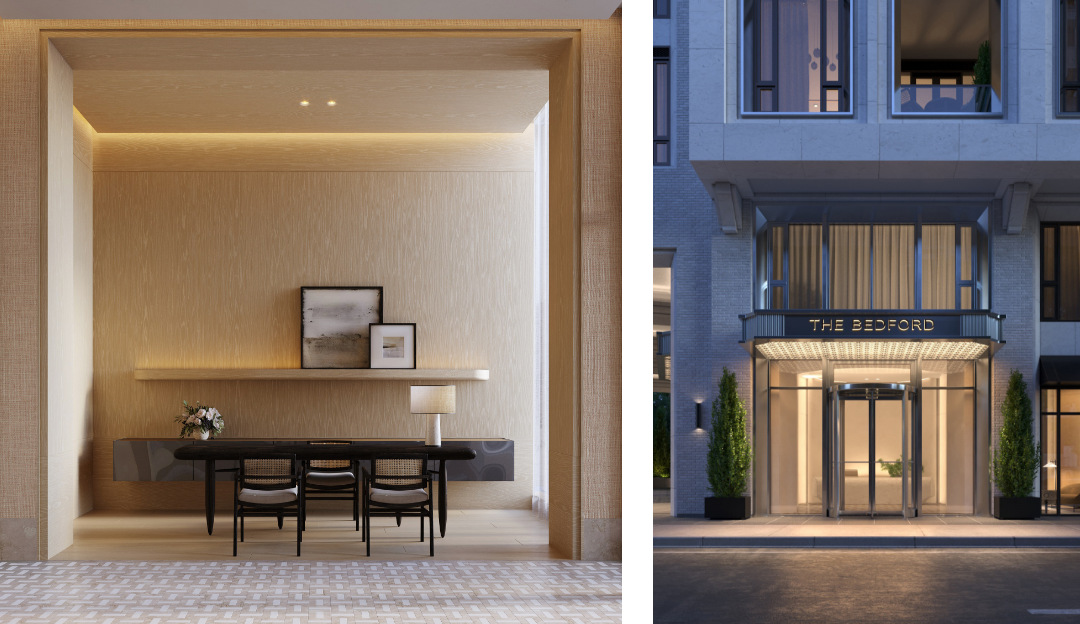 These professionals will strive to address residents' every need. Making dining or event reservations, organizing a massage, makeup or hair services, booking personal training sessions, sourcing event catering and arranging a car wash are just some of the services available to those who call The Bedford home.
CHAPTER 9
The Amenities
The Bedford's exquisite amenity areas are designed so that each level tells its own story - with amenities and services in close conversation with one another. The Bedford offers its residents a unique experience with the amenities tailored for private events and individual, dedicated service.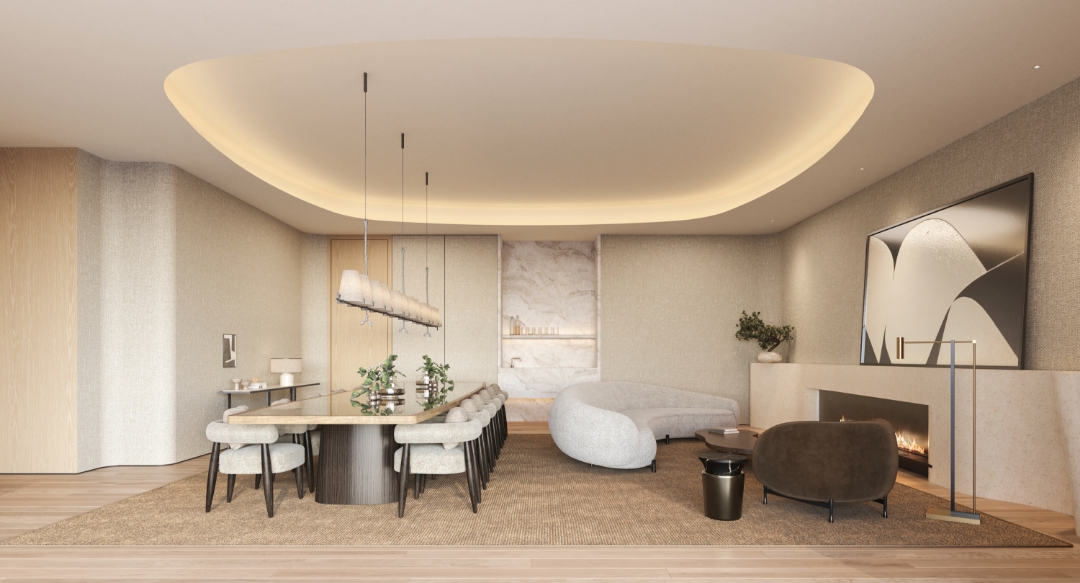 In the Grande Residence, located on the second level, The Bedford welcomes your family to revel in the well-designed multi-generational space. Host your guests in the Private Dining Room including formal seating for up to 16 guests. The private Catering Kitchen can service the Grande Residence, or be used to prepare courses delivered to your residence. There's enough room for everyone to spread out and enjoy themselves in the Lounge Area against a backdrop of the city's skyline. While adults relax over drinks and conversation, children can enjoy themselves in their dedicated adjacent lounge.
CHAPTER 10
More Amenities
The Bedford's upscale amenities are design around the wellness and social needs of its residents. From tastefully designed spaces, geared to entertaining, to areas dedicated to private personal fitness, the comfort of The Bedford's residents is the ultimate goal.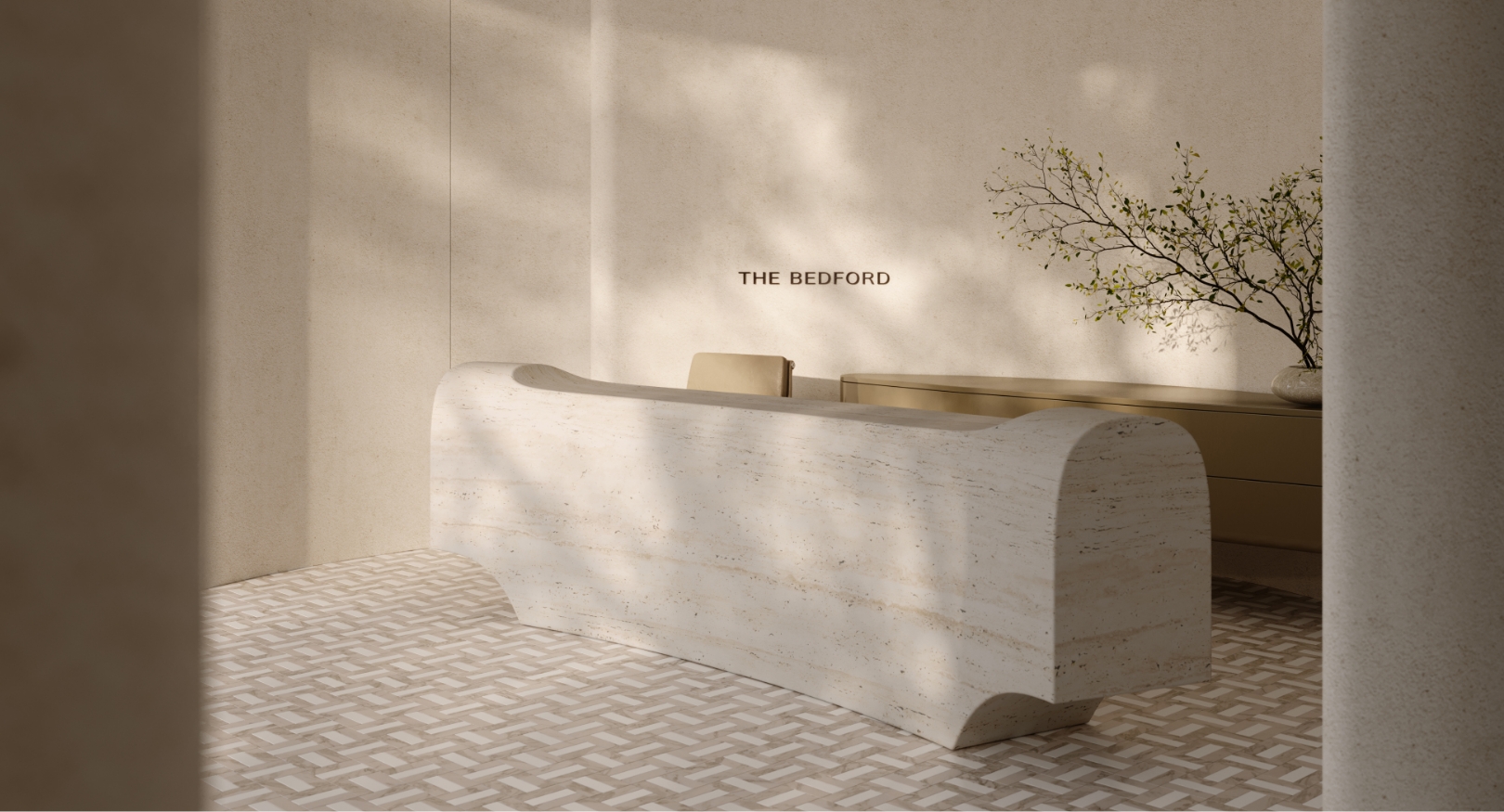 Enjoy 5-star services on the 1st Floor, with two private entrances opening out onto different sides of the street. As you step in through the stunning lobbies, you have access to 24-hour valet and porter services, and workspace/shared rooms that serve as quiet enclaves to nurture focus.

Head up to the Wellness Center to experience a state-of-the-art Gym including Private Training Rooms. Find moments of calm and tranquility in the Personal Service Room where The Bedford's staff can arrange you a massage or light physiotherapy session that lavishes you with the luxury of attention.

\
CHAPTER 11
The Icon
The Bedford is a landmark residence on a human scale, offering residents the freedom to live on their terms. A new icon of architecture, design and hospitality.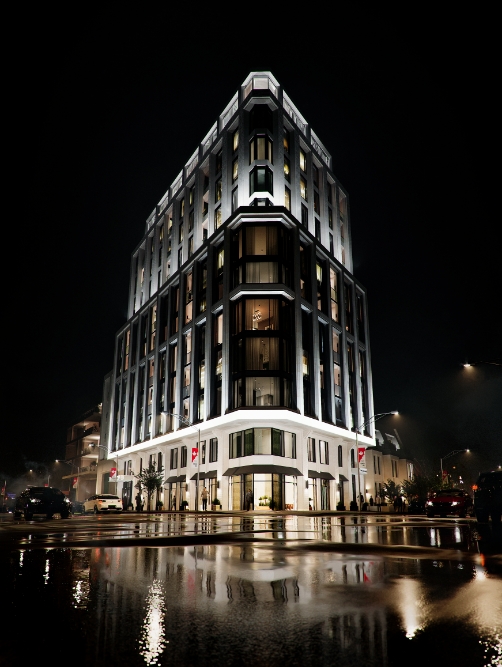 The Bedford, a triumph of creativity, is an intimate and sophisticated place that few can call home. Offering a singular experience of 5-star service and hospitality akin to that of the world's top hotels, we invite you to discover this modern masterpiece. Residents can enjoy the attraction of a traditional home, a turnkey residence designed to suit their every need. Expansive layouts have been thoughtfully tailored to fit residents' comfort and style, optimizing unobstructed city views and natural light. Enjoy the luxury of locking your doors, travelling for months on end and knowing that when you come home, everything will be exactly as you left it.